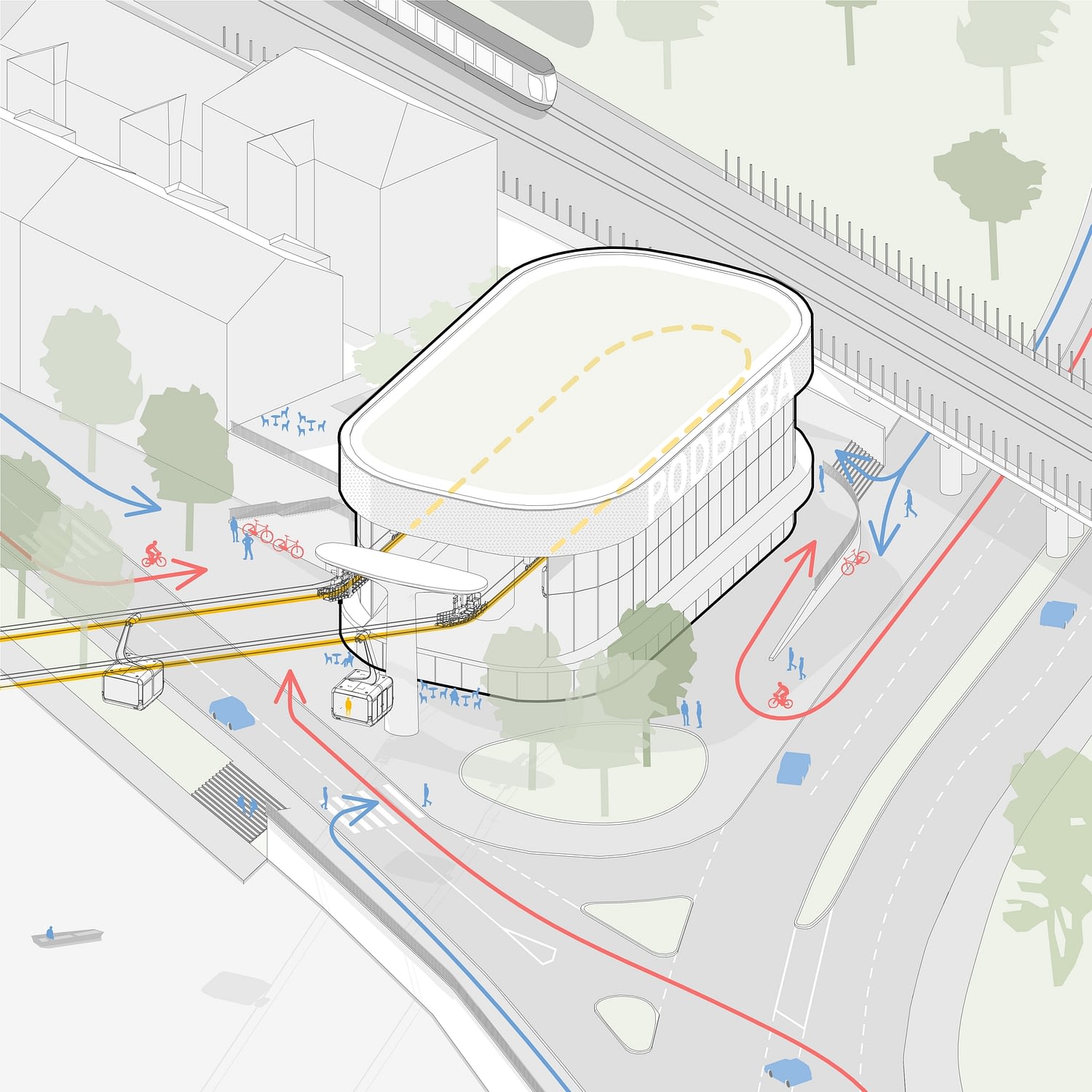 Podbaba
The Podbaba station is designed as a two-storey house at a crossroads. The platform is connected to a raised platform, which is accessible from the surroundings by two staircases and an elevator. On the ground floor of the station, there is bicycle parking, a bicycle repair shop, a bike café, and two other rentable spaces. Ticketing and information are available at the entrance to the platform.  The main transfer route from trams and trains is via the footpath under the line. From there, a staircase leads to the platform level.
Troja
The platform of Troja station is located on an embankment that levels and connects its level with the surrounding terrain. This makes the platform also accessible for cyclists via an access ramp. The station's glass ground floor opens in two directions. Towards the waterfront and the cycle path, with a refreshment area and a souvenir shop towards the entrance to the Prague Zoo. The propulsion unit and cabin depot are located in Troja station. The depot is located at the level of the existing ground.
Bohnice
The Bohnice station is connected to the final tram stop, which is designed in the form of an overpass. The level of the cable car platform is connected to the tram station by a pair of escalators and an elevator. The body of the escalators is covered with a roof, which ensures a longer service life for the escalator technology. On the platform level, there is a public accessible toilet, an information area, ticket sales, and vending machines.
The station buildings are divided into five parts: plinth, platform, glass hall, and attic. The external scale thus resembles the division of ordinary buildings and thus follows the scale of the surrounding city.
The roofs of all stations are designed as green. Green roofs are the best way to retain rainwater in the landscape and at the same time reduce the 'heat island' in cities.
The morphology of the piers follows the morphology of the support and arch, which is typical for most of Prague's bridges. The upper platform of the piers is covered with a layer of duckweed which retains rainwater and then evaporates it into the surrounding area, while also serving as an operating platform.