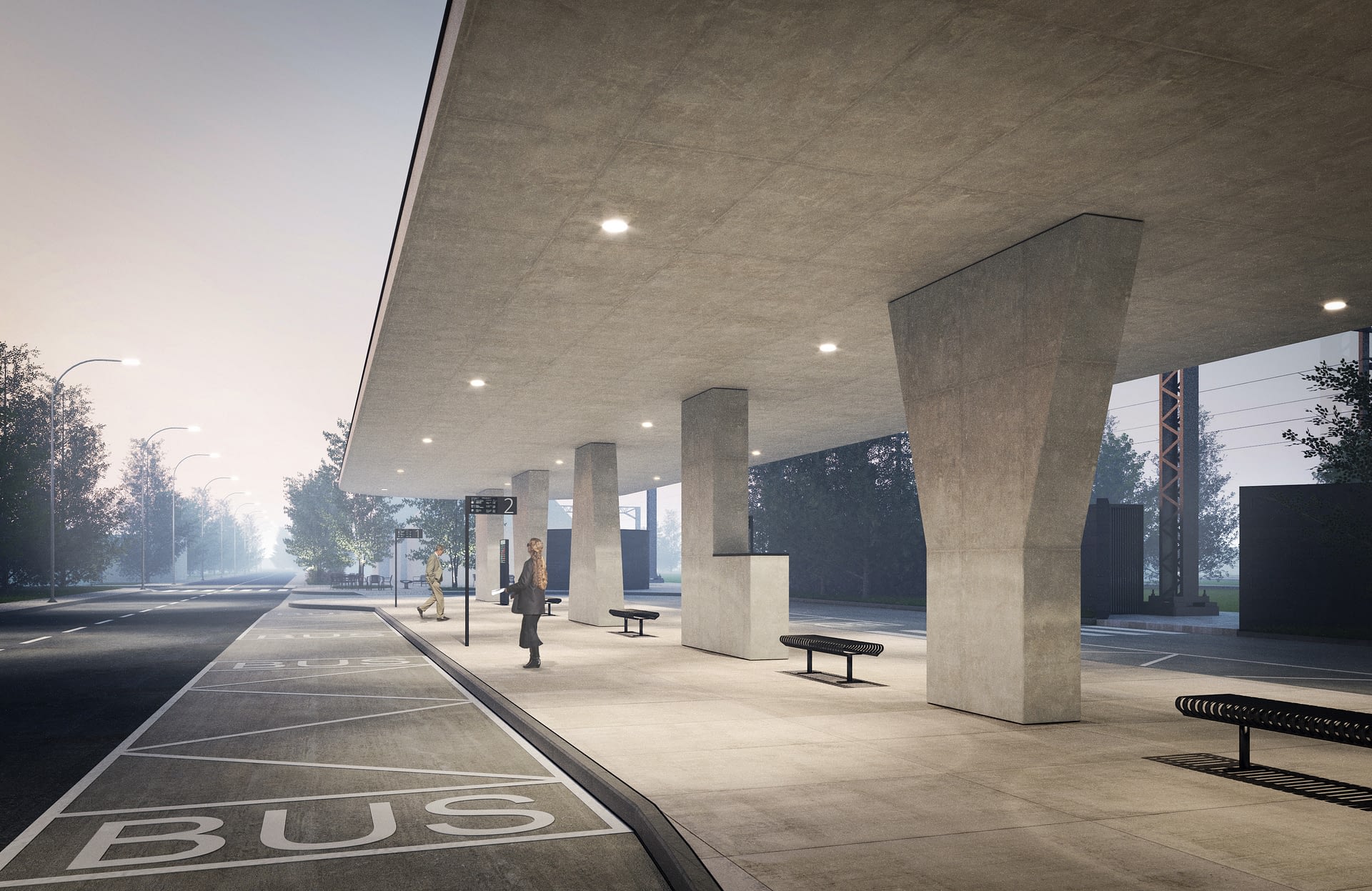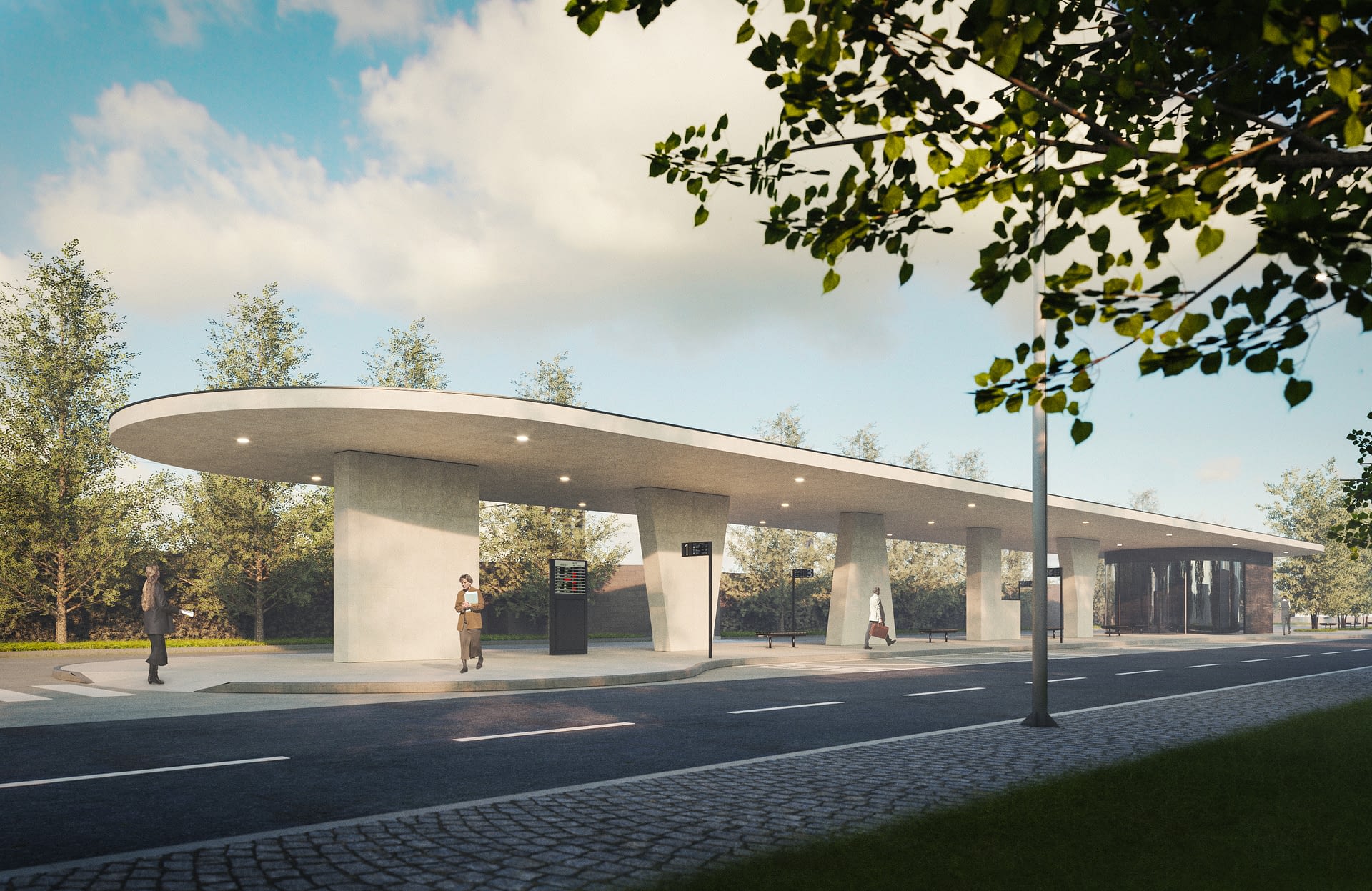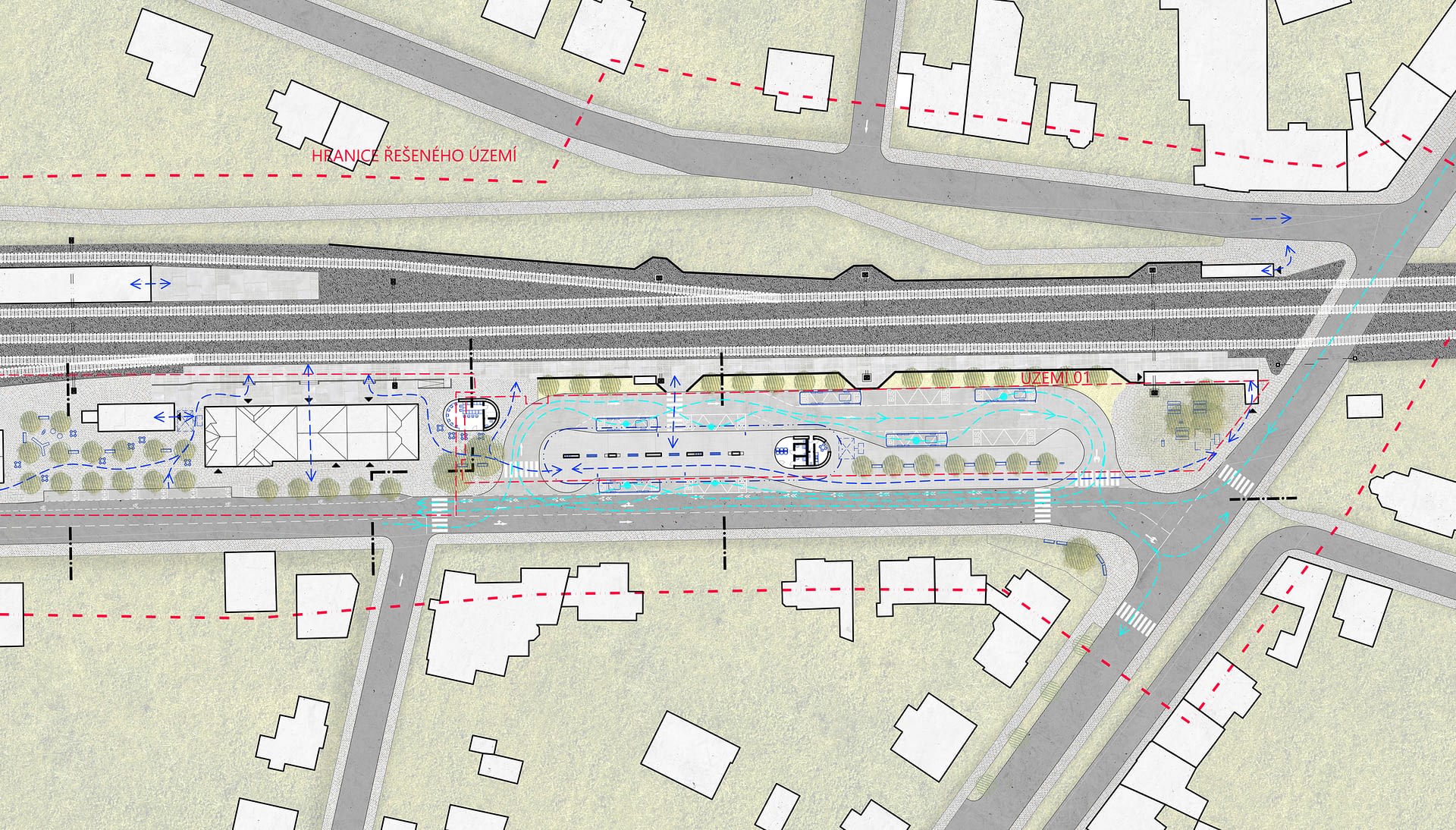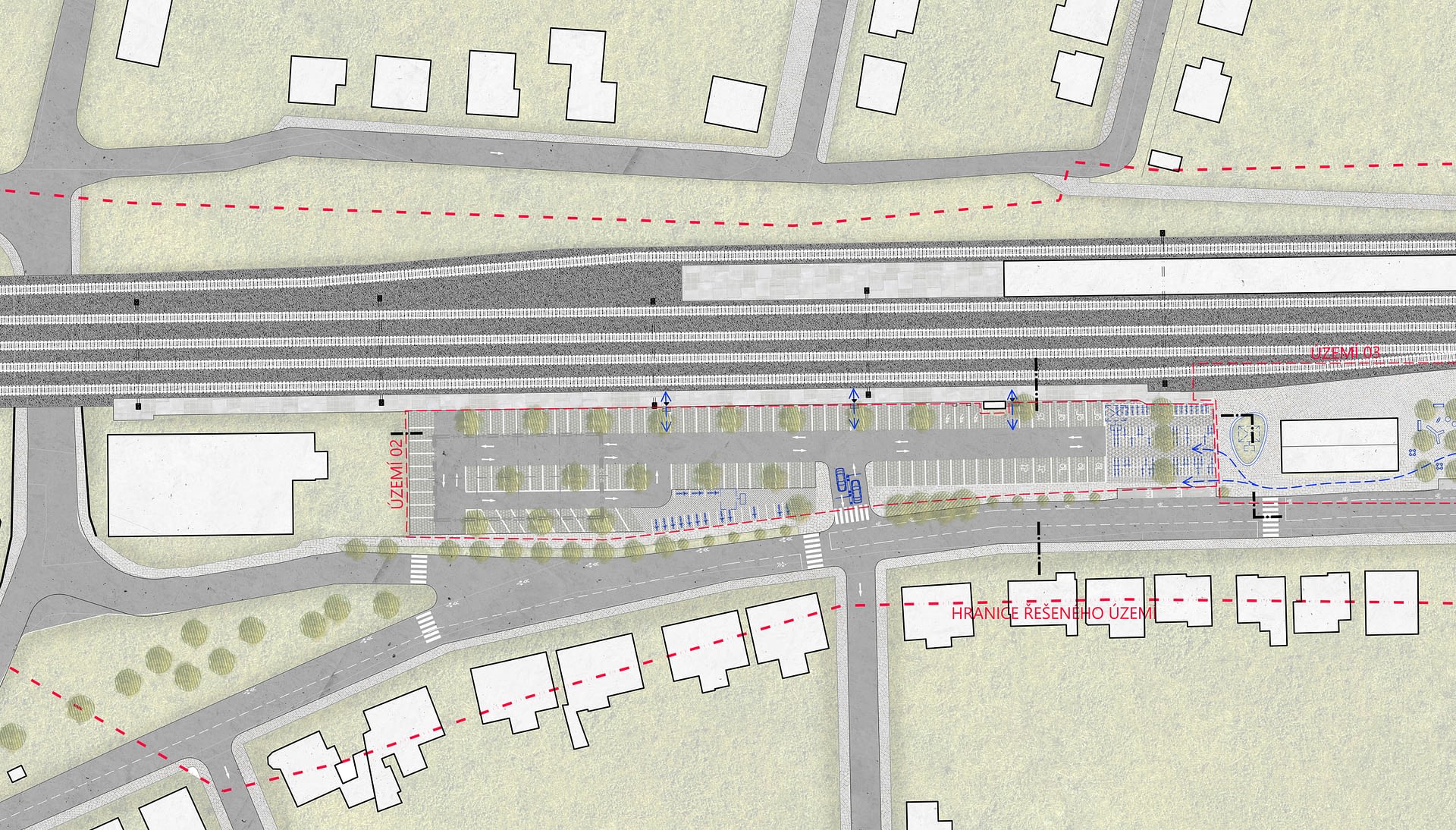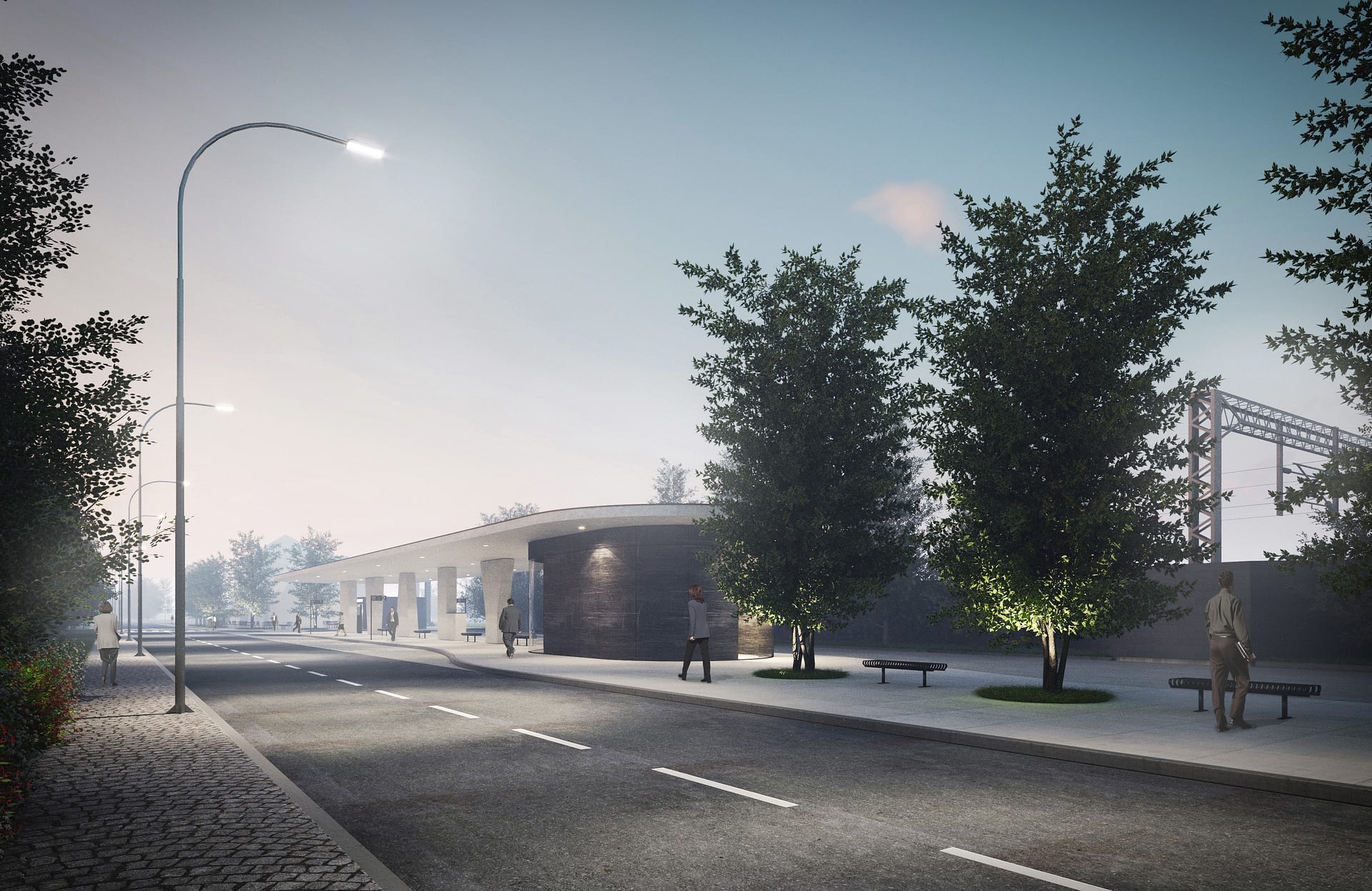 The plot along the railway, which is over four hundred meters long, divides Úvaly into two unequal parts. Improving the route along the track will help to better connect the two parts. The atmosphere of new public spaces can bring new quality with the potential for neighborhood meetings.
The spatial concept is based on the idea of ​​alternating full and empty spaces, empty for stops, cafes with refreshments, playgrounds, benches just like that and newly planted tree alleys, full for buildings.
The roof of the terminal is designed as a simple construction of a reinforced concrete roof placed on pillars. On a symbolic level, they contain the abstract name of the city and reveal the added meaning only at a second glance. The individual letters are maximally simplified to basic cubic volumes. The rounded end on both sides of the terminal gives the building a complete, finished expression and thus aspires to become a civic building. The shape of the curve is derived from the movement of the tow curve of the buses.
On the northern side, there is a parking lot in the area with a capacity of about 90 P + R parking spaces, including immobile parking spaces, places for families with children and parking spaces for electric cars. Two bays for K + R parking and a shelter for bicycle parking are proposed at Jiráskova Street.
As part of the green design, we are adding tree lines along Jiráskova Street in the northern part of the P + R car park. The parking space is designed from vegetation paving, which allows for better rainwater. Trees are designed between the parking spaces, which provide shade and prevent from overheating. The bosket between the station building and the substation building offers a shaded place to wait and rest. Among the trees there are benches, chairs with tables and playground elements for children. In the southern part of the area, a park with  benches, tables and a drinking fountain.
Author:
Jiří Opočenský, Štěpán Valouch
Cooperation:
Romana Bedrunková, Ondřej Králík, Jakub Masný, Viktor Žák
Location:
Úvaly, Středočeský kraj
Status:
Invited, urban-architectural competition 2021, 1. prize
Client:
Town Úvaly
Vizualization:
ova